As Inauguration Day creeps closer & the mainstream media tries it's best to avoid any discussion of President Bush, the hot topic seems to be Obama's cabinet appointments. After all, the birds in your flock say a lot about your feathers, right? But then again, the nation didn't give much of a shit when Dubya sent John "There Is No UN" Bolton to the damned UN or when he appointed a veterinarian to head up the Women's Health Department or when he chose John Ashcroft as his first Attorney General after the man lost a Congressional race to a dead guy that wasn't even on the ballot. Anyhow, I guess a look at Barack's Posse to Be can't hurt & a review of what these Cabinet members do might be beneficial. After all, these dudes & dudettes are the power-holders we didn't even vote for, but they run shit just the same. [Pictures of Cabinet members are ordered chronologically, if you were curious. I like to be able to put faces on the policies I am annoyed with, so I've extended the privledge to you, Dear Reader]
THE BIG FOUR These are the highly coveted, most prestigious, and most influential Cabinet positions:
Secretary of State: Heads up the Department of State & is guru of foreign affairs. If there is negotiating to be done with a dignitary, embassies that need to be holla'd at, or non-military overseas policy to be determined, this is the go-to appointee. Currently held by Condi Rice, but she was preceded by Bush's original Token Black Guy, Colin Powell. Barack has chosen one-time rival Hillary Rodham Clinton to serve, upon Senate confirmation that is. This appointment is notable because it shows that the Feds are coming to terms with the fact that women should be represented in White House positions that weald considerable power. Bill Clinton had Madeline Albright, Bush II has Condi, and now Obama has Hillary. It might be a while before a lady becomes Commander in Chief, but at least this Top Dog position has been de-gendered!
Secretary of Defense: This Secretary is all about the military & armed service concerns. (S)he advises on, formulates, & carries out defense policy, as well as supervises the Joint Chiefs of Staff (six military leaders that advise the civilian world about how shit is). Current SecDef is Robert Gates (named one of the nation's best leaders by U.S. News and World Report in 2008) & Obama has offered him the position in the next administration. Gates is the successor to Bush's most obnoxious cabinet member Donald Rumsfeld ("Needless to say, the President is correct. Whatever it was that he said."). Barack's decision to retain Gates is notable as well. Instead of trying to start all over with a new & uninformed Defense secretary in the midst of two wars, Obama is banking on Gates' know-how to assist with the clean-up efforts.
Attorney General: Top legal eagle in the States & head of the Department of Justice. This Sec is the chief law enforcement officer in the country & chief legal advisor to the Prez and staff. Currently held by Michael Muckasey ("not every violation of the law is a crime"…actually, that's the definition of a crime!) since the 2007 fall of Alberto Gonzales (resigned after allegations of perjury & a politically motivated firing spree). Prior to the disgraced Gonzales, Bush appointed the mother of all idiots, John Ashcroft (opponent of desegregation legislation, covered the boobs on the Sprit of Justice statute, loved the War on Drugs & proved it by attacking California Legal Marijuana clinics & Tommy Chong). Barack has named Eric Holder. This guy served under Bill Clinton as the U.S. Attorney for the District of Columbia and the Deputy Attorney General, being the first black person to serve in both positions. He was also part of the crack legal squad that took down Michael Vick on dog fighting charges.
Secretary of the Treasury: Runs the Treasury & is in charge of finance or monetary matters. This sec. advises on tax policy, public debt, and is Chairman of the Social Security & Medicare Trust Funds. Currently, the dumbbell at the helm of our sinking ship is Henry Paulson (a.k.a. Billion Dollar Bail Out Boy)but Bush had two former SOT's, including John Snow (disgraced by questionable ethics regarding his personal $10 million Freddie Mac/Fannie Mae holdings, so he resigned in 2003) and Paul O'Neill (Predicted the economic crisis way back in 2002 & suggested a tax increase, then objected to the Iraq invasion, so he was pushed into resigning in 2002). Obama is expected to appoint Timothy Geithner, a former career staff official at the Treasury that served under five different Secretaries of the Treasury.
THE REST OF 'UM The Cabinet is also composed of the following 11 members. Don't let the lesser sounding titles fool you, these folks are shot callers in the Capitol.
Secretary of Homeland Security: Bush created this position in the wake of 9/11 & it is supposed to focus on matters of domestic safety. The SoHS is the boss of the Secret Service, the Coast Guard, Boarder Patrol, and FEMA (Federal Emergency Management Agency). The current Secretary is Michael Chertoff (co-author of the Patriot Act, force behind the Mexico boarder fence construction, scrape goat for post-Katrina wrath), who succeeded Tom Ridge (creator of the idiotic color-coded terror alert system). Obama wants Janet Napolitano for the job. Napolitano is currently Arizona's governor in her second term, was the state's first female Attorney General, & represented Anita Hill in her 1991 sexual harassment suit against Supreme Court Justice Clarence Thomas. The general consensus in the progressive blog-o-sphere is that she will be the weakest link that right wing Senators will attack when the time comes to confirm Obama's Cabinet appointees. Her approach to Arizona's immigration issues focused on penalizing the people that hire illegal immigrants and she forced the National Guard to take on the responsibility of sealing the boarders, rather than take the Republican-friendly approach and attack the immigrant population with discriminatory policy and policing efforts. This will not go over well with the Good Ol' Boys in Congress, no matter how much sense it makes to you or I.
Secretary of Commerce: Focused on business & industry (as if any aspect of the Bush Administration isn't). Currently it's Carlos Gutierrez (former CEO of Kellogg Co., supporter of the Central American Free Trade Agreement), preceded by Donald Evans (wanted to open Alaska's wildlife preserve to oil drilling, former CEO of a major energy company). Obama has named Bill Richardson as his nominee. Richardson ran against Obama for the Democratic nomination until he dropped out of the race in January 2008. He is currently in his second term as New Mexico's governor. Under Clinton, Richardson served as energy secretary and UN ambassador. He served seven terms in Congress and is considered one of the nation's most accomplished Hispanic politicians. I guess the best way to keep your fellow Dems on your side is to put them on your team.
Secretary of Labor: Advises on legislation addressing unions, the workplace, and business-person controversies. This is the Cabinet position held most by female appointees. I guess women in the workplace are appropriate on the federal level. Elaine Chao (villainess of the worker's safety crowd & alleged corporate tool) is our current SOL & is the only Cabinet member to serve under Bush for his entire tenure. Obama has picked another gal, Carol Bellamy to follow. She has been the Director of the Peace Corps, Executive Director of UNICEF, & currently serves as CEO of World Learning, an international organization that promotes global citizenship through educational programs in 75 nations. Man, I am glad to see the smart folks returning to the White House en masse.
Secretary of Health & Human Services: This position is supposed to be concerned with the human condition & the Sec is responsible for advising the Pres on matters of health, welfare, and income security programs. The SoHaHS is supposed to carry out health policy & educate the populace about the government's programs. It is currently held by Mike Leavitt (believes avian flu is the biggest threat to the USA, has been called out for questionable tax evasion practices), who succeeded Tommy Thompson (key player in Bush's campaign to remove science from health research, attempted to withhold true costs of Medicare Prescription Plans from Congress). Obama wants Tom Daschle in the position. Daschle is a former Senator & leader of the Senate Democrats during their minority days under Clinton. He was a target of the 2001 Anthrax Attacks perpetrated in the wake of the 9/11 tragedy & it is believed that he was targeted because of his support for a woman's right to choose. Critics of Daschle's nomination, myself included, are concerned that his long established ties in Washington make him a seasoned politician, which is exactly what we (I) don't want in the White House. Obama is a refreshing change to Business as Usual because he lacks experience playing the Washington political game, but Daschle is well versed in the Way Things Go in the Capitol. We'll see I suppose…
Secretary of Veteran's Affairs: Addresses matters related to veteran's benefits. Currently held by James Peake (the operator behind the disastrous military health care system now in place), preceded by Jim Nicholson (notoriously downplayed the numbers of mentally ill veterans), who was preceded by Anthony Principi (after leaving office, he headed the company that got busted for overcharging the Dof Vet Affairs for veteran's physicals). As of yesterday, Obama named retired General Eric Shinseki to the post. Shinseki was the first Japanese-American four star general in the Army & is best known for locking horns with Donald Rumsfeld over the Iraq invasion & the inadequate number of troops the Bush Administration initially sent into battle. Our veterans & troops will no doubt appreciate having a SoVA that actually is concerned with their wellbeing, rather than just another mouth piece for state propaganda.
No Word Yet The remaining cabinet positions have yet to be named to Obama's Dream Team, but speculation is abuzz among political pundits & junkies. Political junkies, not heroin junkies (they aren't much for Cabinet appointments, I'm told).
Secretary of Education: Obviously this Secretary is all about the book learnin'. Currently, Margaret Spellings holds the position (she was one of the principal authors of No Child Left Behind, is vocally anti-gay, & has been called out for being "asleep at the wheel" where student loans are concerned by allowing corruption and conflicts of interest to spread). Before her, Bush had Rod Paige at the Education helm (he hired the dude that planted propaganda about No Child Left Behind & was fined for his actions). Possible Obama picks include Caroline Kennedy (yes that Caroline Kennedy), Chicago's school chief Arne Duncan, NY's school chief Joel Klein, Kansas governor Kathleen Sebelius, and Virginia governor Tim Kaine.
Secretary of the Interior: Overseas the Bureau of Land Management, the U.S. Geological Survey, the Bureau of Indian Affairs, the Fish and Wildlife Service, and the National Park Service. (S)he also appoints citizens to the National Park Foundation board. Basically, this Secretary is a glorified groundskeeper, but power is found it the Interior's control of coal & mineral deposits on public land, off-shore oil, and hydro-electric dams. Most of the time, the Interior position is held by a person from the Western States. Current Bush-guy is Dirk Kempthorne (holds the all-time record for protecting the fewest species during his tenure & is being sued for playing favorites with New York Indian casinos), previously it was Gale Norton (was involved in the Jack Abramoff scandal & is a hardcore supporter of gay discrimination legislation). Candidates under review for Obama's Cabinet include Montana governor Brain Schweitzer, former director of the Fish & Wildlife Service Jaime Rappaport Clark, and Congressman Jay Inslee of Seattle.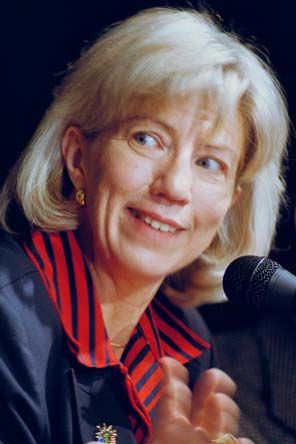 Secretary of Transportation: What do you think this Secretary manages? The rails, the roads, the skies, yadda' yadda'. It's currently Mary Peters (the Teamsters run a firemarypeters site in her honor), was previously Norman Mineta (the only Democrat in Bush's Cabinet & longest serving SoT ever). Possible Obama nominees include Minnesota Rep. Jim Oberstar, New York Transportation Commissioner Janette Sadik-Kahn, and Illinois Rep. Jerry Costello.
Secretary of Agriculture: Runs the United States Forest Service, the Food and Safety Inspection Service, the Food Stamp Program, & the Cooperative State Research, Education & Extension Service (it advises farmers & gardeners on planet shit). The newest SoA is Edward Schafer (thinks there is no problem with eating cattle that mysteriously dies), preceded by Michael Johanns (anti-gay marriage, anti-reproductive freedom, anti-environmental protections, apparently anti-sanity) and Ann Veneman (named Executive Director of UNICEF by Kofi Annan & was a possible Obama running mate candidate back in the day). Obama's picks are very hush-hush right now, but I'll relay info as I get it.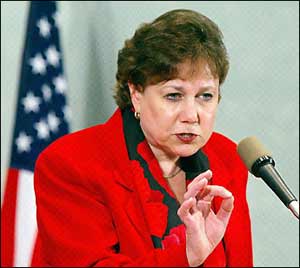 Secretary of Housing & Urban Development: Obviously in charge of urban housing matters & concerns. I wonder if any of Bush's appointees have ever lived in an urban housing development. His current guy is Steve Preston (appointed in April of this year without any previous experience in housing matters… at all… during a housing crisis), Alphonso Jackson preceded him (allegedly illegally distributed funds & contracts based on political affiliation, was named in the Countrywide Loan Scandal), and Mel Martinez came before that (he served as co-chair of Bush's election campaign in Florida in 2000 & was one of the three Senators that pushed Terri Schiavo into federal courts). The newest Secretary maybe Obama's close friend & CEO of Habitat, Co. Valerie Jarrett, South Carolina congressman James Clyburn, or Illinois' congressman Jesse Jackson Jr.
Secretary of Energy: Deals with energy production & regulation, educating the public on energy matters, and developing new technology & alternate energy sources. Also responsible for nuclear waste disposal & maintenance of environmental quality. Currently held by Samuel Bodman (does not believe that greenhouse gases and global warming are linked), preceded by Spencer Abraham (jokes about being in porn as a youngster, wrote a bill to abolish the Department of Energy before he was nominated to head the mo'fo'). Potential energy Secretaries include General Electric Co.CEO Jeff Immelt, retired Army general Wesley Clark, or former Ambassador to Saudi Arabia & Mississippi governor Ray Mabus.